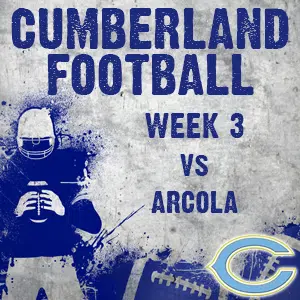 Cumberland was able to get the win last week against Oakwood but faces their toughest test to date this week against Arcola.
The Cumberland Pirates trailed by as many as 46-34 but were able to come back against Oakwood to win 49-46. The Pirate offense did a good job moving the ball both on the ground and thru the air, however the defense was a little confused when dealing with the Oakwood offense.
This week the Pirates will host 1-1 Arcola. Arcola is coming off a big loss to Tuscola 34-0, also in the game Arcola lost one of its quarterbacks. The Cumberland defense will need to be ready as they face a tough test against an Arcola team that put up 42 points in a week one win against South Beloit. Being back at home should help the Pirates as they always play better at home, but the weather may not favor Cumberland.
If the Cumberland Pirates can maintain the momentum from last weeks come from behind win, they have a good shot at improving to 3-0 on the season.
Cumberland vs. Arcola can be heard on WCRA, effinghamradio.com, and the Effingham Radio App with Pre-Game starting at 6:45 and kickoff at 7 PM.