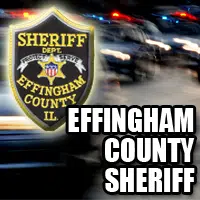 JACKSON TOWNSHIP, IL-(Effingham Radio)- Two people were injured in an accident that occurred in Jackson Township on Thursday evening.
According to a report from the Effingham County Sheriff's Department, the accident occurred on US Highway 40 at 640th Street at 7:09pm.
The report states that a vehicle driven by 40 year old, Nichole S Suckow, of Altamont was traveling westbound on US Highway 40 and was stopped in traffic to turn south onto 640th Street.
At that time, the Suckow vehicle was rear-ended by a vehicle driven by 17 year old, Kevin J Miller, of Altamont.
Suckow sustained injuries and was taken to HSHS St Anthony's Memorial Hospital for treatment.
Miller also sustained non-incapacitating injuries, but refused EMS.
Miller was cited for failure to reduce speed to avoid an accident.