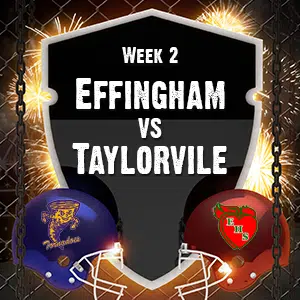 Despite the loap sided score the effingham game almost had it all a long passing touchdown a pick 6 another long touchdown pass a scoop and score and another really long passing touchdown and did i mention the lighting which cause a delay of nearly 50 minutes At the end of all that Effingham was on the wrong side of a blowout falling 64-20 to Taylorville. Hearts safety Kendall Ballmann would kick off the scoring  intercepting a pass and took it all the way back for touchdown to give the Hearts the lead 7-0.   The Tornadoes came out firing scoring quickly to tie the game at 7 on a 24 yard TD pass from quarterback Brandon Odam to one of his favorite targets Justin Wright. Odam would be far from done in the TD department (he would finishing with 5 on the night). 
Yemi Oddugbesan impressed with his speed and fancy footwork after the catch including  a 97 yard TD Catch. Yemi would go onto finish the game with TDs of 74 and 73 yards as well and totaled over 330 yards receiving. After one Taylorville score in the 3rd quarter the referees would see lighting in the area that caused the game to be delayed for nearly an hour. For Effingham Logan Brown rushed for a 25 yard TD. Kendall Ballman would add a rushing TD to his total pulling the Hearts to within 19-14 but that is the closest that Effingham got.  Before the game was over Taylorville would add another score a 24 yard fumble returned for a touchdown. The final ended up being all Taylorville 64-20.
The Tornadoes move to 2-0 on the season and 1-0 in the Apollo and the Hearts fall to 0-2 on the season and 0-1 in the Apollo and face Mt. Zion next week again at home for Military Appreciation Night.
Indiviual Stats
Effingham
Wolfe 15-27 156 yards 7 carries for 49 yards
Logan Brown 14 carries 60 yards 1 TD
Kendall Ballman 6 carries 31 yards 1 TD gained
Tristan Duncan  3 catches  33 yards,
Dylan Bushur 2 catches 13 yards
Nate Shackelford 1 catch 12 yards
Cameron Kalber 6 catches 51 yards,
Kollin Waymoth 1 catch 30 yards
Taylorville
Brandon Odam 20-28 550 yards 5 touchdowns.
Yemi Odegbesan  10 catches  330 yards 3 TDs
Justin Wright  6 catches for 190 yards 2 TDs
We caught up with Effingham Head Coach Brett Hefner after the game here were his thoughts on the game