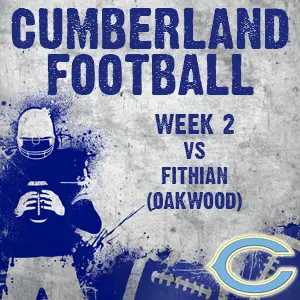 It was a good all around night for the Cumberland Pirates as they defeated Sangamon Valley 47-0. Cumberland had many big plays on the night. With 11:06 left in the first quarter Blayne Donsbach had a 55 yard touchdown, Cumberland then added a 25 yard touchdown pass from Gabe Hatfill to Connor Butler to make it 13-0 after the first quarter. Cumberland would then add a 95 yard touchdown pass from Hatfill to Michael Flyer to go into the half with a 20-0 lead. Gabe would finish the night with three touchdowns after another to Flyer in the third quarter on a 40-yard pass. Cumberland added two more scores in the fourth to finish off the night. Donsbach ended the night with 96 yard on the ground and 2 touchdowns, while Flyer finished the game with 119 receiving yards and 2 touchdowns. Cumberland as a team had 402 total yards, 184 passing and 218 rushing. Cumberland also held Sangamon Valley to just 119 total yards.
Cumberland will now have its first road test of the season against 0-1 Oakwood. Oakwood lost last week to Watseka 21-14. Oakwood hung tough against Watseka leading 14-7 in the third quarter before the Watseka scored 14 unanswered points for the win.
For the Pirates to be successful Friday night the offense needs to keep running at full speed. If the Pirates are patient and wait for the big play oportunities they will be leaving Oakwood with a win.
Cumberland vs. Oakwood can be heard on WCRA, online at effinghamradio.com, or on the Effingham Radio App. Also don't forget that you can now download complete game broadcasts on the Effingham Radio App.