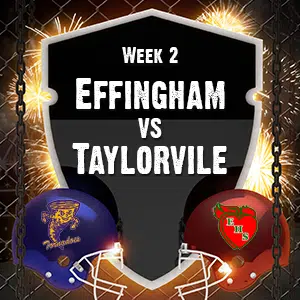 Effingham coming off a 26-19 loss to Breese Mater Dei  in week 1 looks to rebound this week against the Taylorville Tornadoes. Just like the Hearts were looking for revenge last week,  Taylorville looks for a little redemption this week.
Last year Effingham gave the Tornadoes their only loss of the regular season last year (a 50-37 Effingham victory). Taylorville had a nice start to that game scoring on the first two plays on offense.  The play Brandon Odam to Justin Wright they connected a lot last year and will continue to do so again this year . Odam a three year starter had 2,884 passing yards,  813 rushing yards and 38 total TDs last year will lead this Tornadoes team who have high expectations this season and why shouldn't they with all the offensive weapons they possess.  Odam has a talented receiving core to throw to along with Wright senior Jagger Moore,  Jack Kettelkamp  and transfer from Bolingbrook Yemi Odugbesan all will test the secondary  of the Hearts all game long.  The offense for Taylorville was held down last week (give an assist to the wet field conditions) winning 20-8 against Mt. Vernon.
Mater Dei gave Effingham some chances but ultimately the Hearts fell short. Logan Brown and Kendall Ballman both looked good running the ball taking over running back duties,  but Landon Wolfe couldn't much going through the air ( again the wet and muddy field conditions). Wolfe did connect with Tristian Duncan on a 55 yard TD pass late in the game but wasn't enough to comeback.
This is also a pivotal Apollo Conference game as it's the first one of the season,  as well as Effingham being the reigning defending champion and Taylorville wants to be champs this season, like they were  in 15-16 season.
Listen to the game on 100.5 and 105.5 or right here on Effingham Radio.com and the Effingham radio app