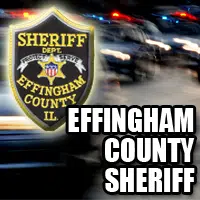 ST FRANCIS TOWNSHIP-(Effingham Radio)- One person was injured in an accident that occurred in St Francis Township on Friday morning.
According to a report from the Effingham County Sheriff's Office, the accident occurred on 2300th Street, 100 feet south of 1600th Avenue, at 9:23am.
The report states that a vehicle driven by 27 year old, Nicola Luta, of Tacoma, Washington was traveling northbound on 2300th Street.
Luta lost control of the vehicle and skidded off the roadway, coming to a rest in a large ditch to the east.
Luta was taken to HSHS St Anthony's Memorial Hospital for treatment.