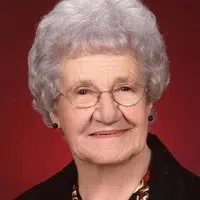 Mary Agnes Niemeyer, 95 of Teutopolis, passed away peacefully Monday morning, August 27, 2018.

A Mass of Christian Burial will be held at 10:30 a.m. Thursday, August 30, 2018, at St. Francis of Assisi Catholic Church in Teutopolis with burial in St. Francis Cemetery. Visitation will be held from 9:00 a.m. to mass time, Thursday morning in St. Clare Hall, within St. Francis Church. Memorial donations may be made to the donor's choice.

Mary Agnes was born March 18, 1923, in Teutopolis, the daughter of Edward and Clara (Koestner) Pruemer. Upon graduating from LeClaire College in 1943, she accepted her first teaching position at Franklin, a one-room schoolhouse in the Bishop Community. She considered her 24 students as family.

Mary Agnes was united in marriage to Dale Niemeyer on June 9, 1945, and he preceded her in death on February 28, 2004. She was a member of St. Francis Church in Teutopolis and the Council of Catholic Women. Mary Agnes was a homemaker and enjoyed helping her husband on the farm.

Mary Agnes leaves behind her three children, Peggy (Francis) Uthell, Judy (Clete) Bloemer, both of Effingham and Joe (Sandy) Niemeyer of Jonesboro, AR; 9 grandchildren, 20 great-grandchildren, and 1 step-great-grandchild. 

She was preceded in death by her parents; husband; father & mother-in-law, Allie and Emma Niemeyer; brothers and sisters-in-law, Earl & Florence Niemeyer, Grace & Charley Hotze and Bernie & Annie Niemeyer.