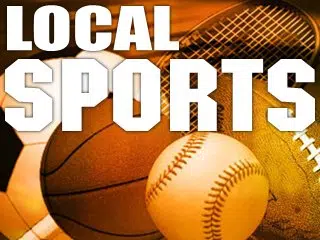 Girls Golf 
The St. Anthony girls golf team took 2nd place at the Alton Marquette Blast Off played at the Spencer T Olin course in Alton finishing with a team score of 342. Scoring for St. Anthony was Ava Wegman (79), Clare McHugh (81), Macy Ludwig (90), and Reagan Westendorf (92). Non counting scores for St. Anthony were Ellie Wegman (92) and Regan Koester (99). Ava Wegman placed 2nd individually and Clare McHugh Placed 5th. O'Fallon with a team score of 340 took first place in the tournament
.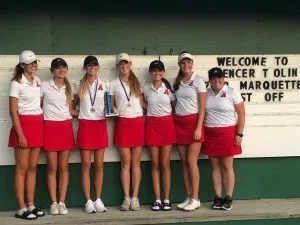 L to R:  Ellie Wegman, Reagan Westendorf, Ava Wegman, Clare McHugh, Regan Koester, Macy Ludwig, and Coach Emily Konrad
Soccer
St. Anthony finished in 4th place in the St. Anthony High School Soccer Tournament. Teutopolis finished in 2nd place On Friday St. Anthony and Greenville tied 1-1 and Harrisburg and Christ Our Rock  tied  2-2. On Saturday, St. Anthony beat Salem, 1-0,  Teutopolis won 1-0 over Altamont, Greenville defeated Salem, 5-1,  Altamont shutout Harrisburg, 5-0,  Mount Carmel won against CORL, 5-1, Greenville defeated Harrisburg 7-0, Teutopolis defeated  CORL 6-0 , and Mount Carmel beat St. Anthony, 3-1. Mount Carmel won the tournament  on  the tiebreaker point differential
High School Girls Tennis
Teutopolis won the championship of the Effingham St. Anthony Tennis Invitational on Saturday.  Teutopolis scored 38 1/2 followed by Bloomington Central Catholic 34 1/2, St. Anthony 31, Robinson 24 1/2, Newton 20 1/2, Herrin 14, Charleston 12, Mount Zion 11 1/2, Decatur Lutheran 6 1/2, Mahomet-Seymour 6 1/2, Teutopolis JV 5 1/2, Greenville 5, St. Anthony JV 3 and Robinson JV 3.
#1 Singles Emily Mossman (St. A) defeated Jaclyn Street (Newton) 6-3 6-3
#2 Singles  Julia Hardiek (T-Town) defeated Camryn Restivo (Bloomington Central Catholic) 7-6 (1) 6-1
#3 Singles Kristin Vose (Bloomington Central Catholic) defeated Logan Blankenship (T-Town), 6-1 6-3
#1 Doubles Brumleve-Probst (T-Town) defeated Satoris/Hundman (Bloomington Central Catholic), No Score Reported
#2 Doubles Deters-Hemmen (T-Town) defeated Goodlick-Kanski (Bloomington Central Catholic), 7-5 6-3
Effingham  girls tennis team competed at the Springfield Invitational on Friday and Saturday finishing 8th out of 15 teams with 29 points. Skyler Schafer won 3rd Place individually. Lydia Kull took 4th place individually

Results for Friday
#1 Doubles (Funneman/Douthit)
Round 1: win vs. Hiredesai/Shim (Normal) 6-3 6-2
Round 2: Loss vs. Birski/Meyers (Moline) 3-6 4-6
Round 2 consolation: win vs. Williams/Reynolds (Rochester) 8-3
Round 3 consolation: loss vs. Macias/Saenz (Alton) 4-8

#2 Doubles (Schafer/C. Kull)

 Round 1: win vs. Anishka/Sina (Springfield) 6-2 6-0
Round 2: loss vs. Suess/Grigg (Triad) 2-6 4-6
Round 2 consolation: loss vs. Schmedeke/Coffey (Rochester) 7-9

# 3 Doubles ( Arend/L. Kull)
Round 1: loss vs. Giertz/Giertz (Alton) 2-6 1-6
Round 1 consolation: win vs. Mallory/Alena (Springfield) 8-1
Round 2 consolation: loss vs. Koehl/Auer (Washington) 1-8Results for Saturday
#1 Singles (Chloe Funneman)
Round 1: loss vs. Mya Hoffman (Springfield) 3-6 0-6
Round 1 consolation: loss vs. Kyah Eastin (Mattoon) 7-9

#2 Singles (Lauryn Douthit)
Round 1: win vs. Zoe Vessey (Rock Island) 6-3 6-3
Round 2: loss vs. Bri Williams (Rochester) 5-7 2-6
Round 2 Consolation: win vs. Amy Burgess (Collinsville) 8-0
Round 3 consolation: win vs. Annika Hiredesai (Normal) 8-4

#3 Singles (Skyler Schafer) 3rd Place winner
Round 1: bye
Round 2: win vs. Hannah Shim (Normal) 6-3 6-4
Semifinals: loss vs. Nicholas Venigalla ( Glenwood) 4-6 0-6
3rd place match: win vs. Nikki Lowe (Alton) 8-2

#4 Singles (Riley Arend)
Round 1: win vs. Sarina Gauidaiah (Glenwood) 7-5 7-5
Round 2: loss vs. Cali Lim (Normal U High) 3-6 3-6
Round 2 consolation: Erica Deporter (Rock Island) 8-3
Round 3 consolation: Claire Talbott (Normal) 1-8

#5 Singles (Caroline Kull)
Round 1: loss vs. Lily Randall (Glenwood) 3-6 2-6
Round 1 consolation: win vs. Gracie Jackson (Jacksonville) 8-0
Round 2 consolation: win vs. Elyse OBrien (Rock Island) 8-2
Round 3 consolation: win vs. Karalyn Mitchell (Collinsville) default

#6 Singles (Lydia Kull) 4th place

Round 1: win vs. Bethany Pohlman (Jacksonville) 6-2 6-0

Round 2: win vs. Kambelle Ashmore (Mattoon) 6-2 6-0

Semifinals: loss vs. Olivia Markin (Normal U High) 2-6 1-6

3rd place match: loss vs. Anna Chambers (Glenwood) 2-8