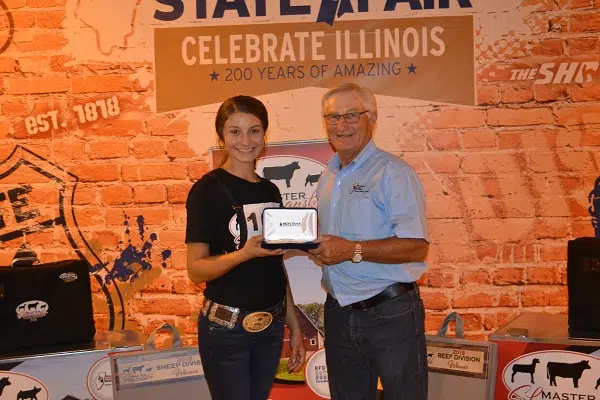 Springfield, IL -(Effingham Radio)- Paige Van Dyke of Louisville, IL, represented Clay County at the State Fair Master Showmanship Contest sponsored by the Illinois Farm Bureau. Paige was selected as the first-runner-up
The Master Showmanship Contest tests individual's skills and knowledge of showing beef, swine and sheep. Contestants are judged on their visual showmanship skills and are also asked questions about each of the species. The state contest takes place during the Illinois State Fair in Springfield, Illinois. County contest take place throughout the summer.
Prizes are given to the top showman of each of the three species and a master showman of all three combined is awarded the top honor.
Individuals must compete in a county contest to be eligible for the state Master Showmanship Contest.
Paige is a member of the Panther Creek Pioneers 4-H Club and also a member of the North Clay FFA Chapter. To be eligible to show in the State Fair Master Showmanship Contest, Paige won the county contest, that was sponsored by the Clay County Farm Bureau Young Leaders during the Clay County Fair in July.
Paige is the daughter of Jon and Katrina Van Dyke of rural Louisville.