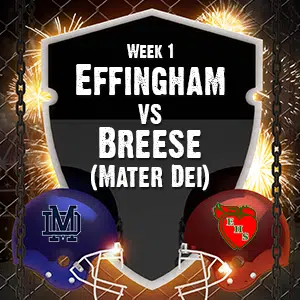 The Effingham Hearts lost 19 seniors from a season ago and none had more impact than Terrance Hill. Its kinda hard and near impossible to replace numbers like this  2,188 yards, 37 TDs, and 222 individual points all new season records. Not to mention the numbers he had in his career 4,408 yards, 58 TDs, and 348 individual points all new school records. Head Coach Brett Hefner said on the loss of Hill "The thing that concerns me more than just losing him is we lost three pretty good guys who blocked for him." You know if you asked Hill that's probably what he would have he would have said too,  always gave praise to his teammates before his individual accomplishments. "Kendall Bowman and Logan Brown i think have a good chance of having good years for us but we got to  be able to block people". Another loss from last season that is just as big as Hill's production was  the front 6 on defense and the pressure they will able to generate on opposing QBs but Ballman and Brown will be back in the secondary, a  secondary as a unit  improved as the season went along.
But enough about what this team have lost they are returning Landon Wolfe at QB who has a strong arm and knows this system well. Nate Shackelford had playing time at QB last year as well but will be playing some receiver. "We are gonna use Nate in other places than quarterback he's just too good of an athlete, he's gonna play some receiver, he's gonna play on the special teams, hes gonna get a chance to block punts, hes gonna get a chance to play some quarterback" Hefner said about the use of Shackelford. Jason Bowlin, Reese Evans, and Mattwew Hites return on the offensive line Senior Dylan Bushur and junior Cameron Kalber along with Ballman and Brown look to be the offensive weapons for Wolfe to utilize. It's the defense and the "box 6" that is the biggest question mark as we go into week 1 for the Hearts.
Every season since 2004-2005  the Effingham Hearts have opened the season against Breese Mater Dei and it will be no different this year. The Hearts will look for some revenge from last years lone regular season loss 27-26 to Mater Dei. It was a down year for the Knights as they went on to win one other game finishing the season 2-7 so they will look to rebound led by returning senior running back  Logan Ratermann.
The Hearts will look to use others overlooking them after all they lost as motivation "Kids talk about it they know, we graduated a lot but its also to remember  there is a lot of guys here who have waited their chance…there anxious to show people heh their pretty good football players too" Effingham opens the season at home against Breese Mater Dei this Friday night kickoff is at 7 and you can listen to all the action on 105.5 and 100.5 Jack FM