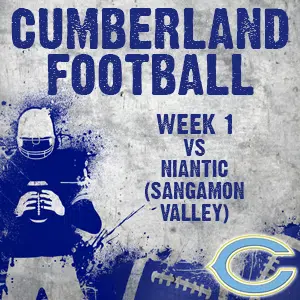 Cumberland football kicks off this Friday with Cumberland hosting Sangamon Valley.
Cumberland is returning 21 letter-man from last season's team. However this Cumberland team won't be the same smashmouth football team we have seen in the past. Cumberland has many quick skill players on offense that Coach Watkins will look to get involved. Cumberland returns Senior QB Gabe Hatfill, who was a First Team All-LOVC SE Division Quarterback, who completed 61 percent of his passes and had 23 touchdowns. Also returning for Cumberland is first team all-Little Okaw Valley Conference Southeast Division first team unanimous selections Dayton Mitchell, who is an offensive lineman, and linebacker Dalton Antrim, who led the Pirates in tackles last year. Cumberland will look to improve on recent history with a 5-5 record two years ago and a 8-3 record last year with a second round playoff home game.
To start the season Cumberland will host Sangamon Valley in a rematch from a game last season. Last year Cumberland defeated 44-6 at Sangamon Valley. Sangamon Valley ended the season with a 2-7 record. Sangamon Valley defeated Pal-Hut 25-20 in week 1 and Tri-County 34-27 in the final week of the season. Sangamon Valley will look to start their season this year with a win like last year.
Tune into Cumberland vs. Sangamon Valley on 1090 AM WCRA, 99.5 and 96.3 FM, online at Effingham Radio.com, and by downloading the free Effingham Radio App. Kickoff is at 7 PM with pre-game starting at 6:45 PM.