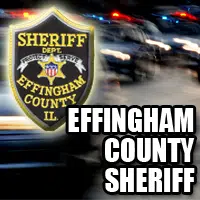 TEUTOPOLIS, IL-(Effingham Radio)- Two Montrose residents were injured in a two-vehicle accident that occurred in Teutopolis on Saturday.
According to a report from the Effingham County Sheriff's Department, the accident occurred at the intersection of Wall and Main Streets in Teutopolis at 9:07am.
The report states that a vehicle driven by 20 year old, Jordan D Wellbaum, of Teutopolis was traveling southbound and stopped at the stop sign on Wall Street.
Wellbaum then proceeded through the intersection, striking a vehicle driven by 67 year old, Mary E Evans, of Montrose.
Wellbaum told officials that he was unable to see the Evans vehicle due to a blind spot in his vehicle.
Evans and her passenger, 66 year old, Carl V McClellan, of Montrose were taken to HSHS St Anthony's Memorial Hospital.
Wellbaum was cited for failure to yield turning left.