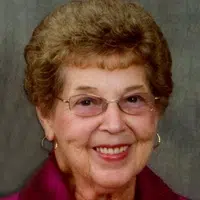 Marlene Rose Bierman, 81 of Island Grove, passed away Sunday morning, August 12, 2018, at Lavender Ridge in Effingham.
A Mass of Christian Burial will be held at 10:30 a.m. Thursday, August 16, 2018, at St. Joseph Catholic Church, Island Grove, with burial in the church cemetery. A parish wake service will be held at 4:30 p.m., followed by visitation until 7:30 p.m., Wednesday evening at the church. Memorial donations may be given to the donor's choice.
Marlene was born October 11, 1936, in Clay County, the daughter of Joseph and Agnes (Bangert) Hinterscher. She married Glen W. Bierman on November 29, 1961, and he survives. Marlene was a cook at the Wendelin schools until her marriage in 1961, raised her family of five children, and then worked at Niemerg's Steakhouse in Effingham taking care of the salad bar. She loved to cook, clean and attend her grandchildren's sporting events. Marlene was a member of the St. Joseph Catholic Ladies Sodality, Jasper County Home Extension and collected salt and pepper shakers.
Marlene is survived by her husband, Glen; children, Timothy (Lori) Bierman, Susan (Michael) Platz, Linda (Dale) Pruemer, Samuel (Stacie) Bierman and Cynthia (Allen) Konkel; grandchildren, Stephanie Marrs, Michelle Paine and Natalie Bierman, Tyler, Alyssa and Bailey Platz, Maci and Jared Pruemer, Connor, Reid and Griffin Bierman and Derek and Emily Konkel; brothers, Franklin (Hilda) Hinterscher and Delbert (Anne) Hinterscher; sisters-in-law, Marcella Bierman, Clarice (Melvin) Probst and Loretta Uthell.
Marlene was preceded in death by her parents; brothers, Allan, Herman Joe and Leroy Hinterscher; brothers-in-law, Melvin Uthell and Arthur Bierman and sister-in-law, Lucille Probst.