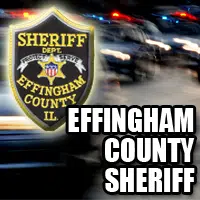 Mound Township, IL -(Effingham Radio)- A Mason woman was injured in a single vehicle crash that occurred on July 23, 2018 approximately 2:15 PM.
According to a report from the Effingham County Sheriff's Department the accident took place on 500th Street, around 1200 feet North of 600th Avenue, in Mound Township.
The report states that a vehicle driven by 21 year old, Kaitlyn J. Verdeyen, of Mason, IL was traveling northbound on 5ooth Street; when the vehicle struck loose gravel and lost control.
The vehicle driven by Verdeyen left the roadway on the left side of the road and came to rest in the creek.
Verdeyen was wearing a seat, belt but still sustained injuries and was transported to HSHS St Anthony's Hospital in Effingham for treatment.