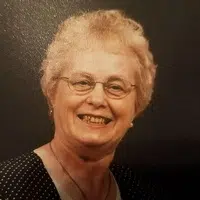 Lucille Agnes Worman, 70,  died peacefully with family by her side at Carle Foundation Hospital in Urbana, Illinois at 4:02 am on Friday, July 20th.
She was born on October 3, 1947, at Effingham, Illinois to Leo and Eleanora (Habing) Worman. She is survived by her nine siblings: brothers James (Joyce) Worman of Mattoon, Jerry (Ann) Worman of Effingham, Dale (Kathy) Worman of Stewardson, and Pat Worman of Teutopolis; sisters Barbara (Bob) Kremer, Linda (Dennis) Koester, and Julie (Randy) Seaton of Teutopolis, Norma (Oscar) Bloemer of Effingham, and Carol (Terry) Bosley of St. Joseph; and many nieces and nephews and great-nieces and great-nephews.
She was preceded in death by her parents, brothers-in-law Randy Seaton and Dennis Koester, nephew Jay Koester, and niece Samantha Seaton.
Upon her graduation from Teutopolis High School, Lucille started her employment as a hotel housekeeper. She first worked at the historic Benwood Hotel on the town square of downtown Effingham for several years. For the next 28 years, she worked at Keller's Ramada Inn until the hotel burned down. During those 28 years, she never missed one day of work and frequently was named Employee of the Month. In 2010, she ended her career at the Comfort Suites in Effingham.
Lucille was an avid walker and enjoyed walking miles each day until she suffered a bad ankle break in her fifties. She loved the Chicago Cubs, Teutopolis Wooden Shoes, Fighting Illini basketball, hearing news about her nieces and nephews, family card-playing visits, doing puzzles, and taking rides with her brother to Bishop Creek, the farm community where she grew up.
Lucille was an inspiration to her family as she soldiered through a multitude of health issues. For the past five years, she spent each Monday, Wednesday, and Friday morning at dialysis. The loss of her eyesight did not prevent her from listening to her beloved Cubs and becoming the ear of the family and the source of all family news.
Upon her death, the family learned that Lucille was a Gift of Hope Organ and Tissue Donor. And it is particularly poignant that Lucille died on the same day, Friday, July 20th, that her cherished Mother died eleven years earlier.
Visitation is at Bauer Funeral Home, 302 E. Main Street, Teutopolis on Tuesday, July 24 from 4-7pm with a Parish Rosary at 5 pm. There will be a Funeral Mass at St. Francis of Assisi Catholic Church, 203 E. Main Street, Teutopolis on Wednesday, July 25 at 10:30 am. There will be a private burial at St. Francis Cemetery at a later date.
The family would like to thank the DaVita Dialysis Center, St. Anthony Memorial Hospital, Lakeland Rehab and Healthcare Center, and Carle Hospital for their compassionate care. Memorials may be made to the family.