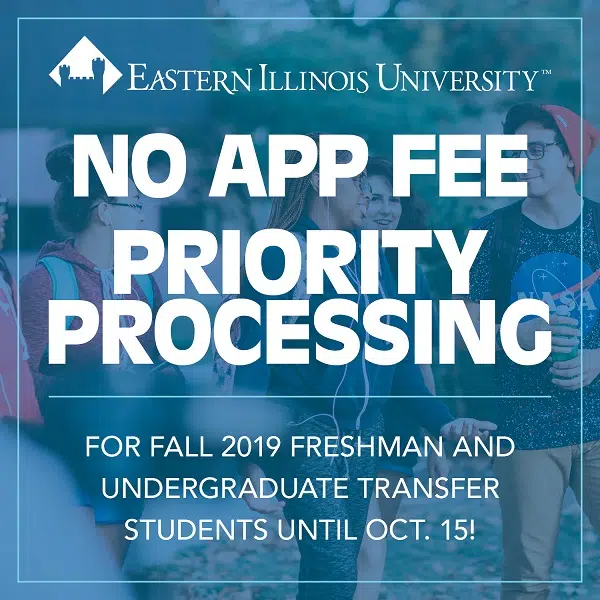 Charleston, IL-(Effingham Radio)- Eastern Illinois University has waived its application fees through October 15.
EIU is encouraging all graduating high school and undergraduate transfer students who wish to begin their academic career at EIU in summer or fall of 2019 to save on the application fee—regularly $30—simply by applying online to the university prior to the October 15 waiver deadline.
EIU is ranked as Illinois' top-rated public regional university by U.S. News & World Report. The application fee waiver is an extra incentive for prospective students, complementing additional EIU accolades, including distinctions as a Best Online College in Illinois and its location in the City of Charleston, named the second-safest college town in America by Safewise.com. EIU is also recognized for its higher-than-average graduation rates, retention rates, and service to underrepresented students—in addition to being one of Illinois' most affordable institutions with regard to tuition and housing costs. In fact, Charleston was ranked first in Illinois and third in the nation as the Most Affordable College Town in America by CBS Money Watch. A full list of EIU distinctions is available at https://www.eiu.edu/distinctions/distinctions.php.
"Eastern Illinois University offers our students a unique, small-campus feel that's surrounded and supported by a network of fantastic community partners," said Josh Norman, associate vice president for Enrollment Management. "EIU gives students hands-on opportunities to pursue their personal and professional dreams, and our low tuition and housing costs make it one of the most competitive universities in the state."
To apply online, prospective students must create a MyEIU account at https://www.eiu.edu/myeiu/, then follow the easy onscreen instructions. MyEIU is a personal portal into EIU, allowing prospective students to learn even more about EIU's campus, academic programs, student organizations, and professional opportunities.
Prospective EIU students or parents and families of prospective EIU students can call or email (877) 581-2348 or admissions@eiu.edu for more information about the application fee waiver. For more general information about EIU, including its many programs and services, they can visit https://www.eiu.edu/.