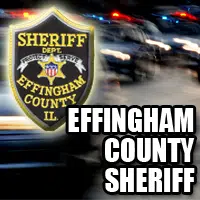 EFFINGHAM COUNTY, IL-(Effingham Radio)- On July 9th, 2018, a man who identified himself as Edward Gale Nelson, was arrested after committing an Aggravated Domestic Battery at the Fairview Inn in Montrose during the late evening hours of July 8th.
He was also arrested for Aggravated Assault, Aggravated Fleeing or Attempting to Elude Police, and Speeding.
On July 11th, 2018, the Effingham County Sheriff's Office discovered that Nelson's real name is Merl D Wheeler Jr.
Wheeler is wanted on warrants from Missouri for Possession of Controlled Substance, Burglary, Theft of Credit Cards, and Violation of Probation.
This information has been forwarded to the Effingham County State's Attorney's Office for possible additional charges.