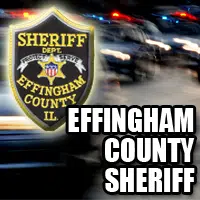 Effingham, IL-(Effingham Radio)- Two 17 year old's sustained minor injuries in a car crash that took place at approximately 1:50am, July 5, 2018, on 1000th Road, South of 1175th Avenue; in Jackson Township.   
According to a report from the Effingham County Sheriff's Department a vehicle driven by 17 year old, Jaxon B. Kincaid, of Effingham, IL was traveling south bound on 1000th Road.
The vehicle driven by Kincaid swerved to miss a deer and lost control of the vehicle.
The vehicle then left the roadway on the east side of the road and entered the ditch.
The vehicle over turned and came to rest in a bean field.
Both Kincaid and the passenger of the vehicle, 17 year old Austin B. Jacob, of Effingham, IL were treated by HSHS St. Anthony's Memorial Hospital in Effingham for Non-Incapacitating Injuries.