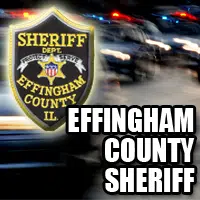 Teutopolis, IL-(Effingham Radio)- Two individuals were injured in a crash that occurred at 3:25 pm; on Friday, June 29, 2018.
The accident took place at 1400th Ave. and 1950th St. in Teutopolis, IL.
A report from the Effingham County Sheriff's Office indicates that a vehicle driven by 40 year old, Amanda M. Maag, of Effingham, IL was headed east bound on 1400th Avenue.
The vehicle driven by Maag crossed over the roadway attempting to enter a private driveway at 19454th E 1400th Ave.
While attempting to enter the drive her vehicle crossed into the path of a vehicle driven by 49 year old, Stephen P. Gillett, of Wheeler, IL.
Both drivers suffered Incapacitating Injuries and were transported to HSHS St. Anthony's Memorial Hospital in Effingham.
Maag was cited for Improper Lane Usage.