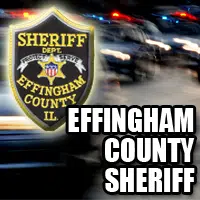 EFFINGHAM COUNTY, IL-(Effingham Radio)- On Saturday, June 9, 2018, the Effingham County Sheriff's Office conducted their annual Sheriff's Posse Ride.
The rise is a motorcycle fundraiser for a local charity in Effingham County.
This year's benefactor was Crisis Nursery of Effingham County.
With the help of the many local merchants in the County, the Sheriff's Office, volunteers and the local Blue Knights Chapter raised $5,253.00 for this very worthy cause.
This amount reflects a $500.00 donation from the Blue Knights.
Sheriff Dave Mahon and Chairperson Cheryl Brian would like to thank Legacy Harley Davidson, and all the local businesses for their generous donations, which helped raise the money for such a great cause.
Those present the check are pictured from L to R: Jim Brian; Committee Member, Cheryl Brian; Posse Ride Chairperson, Meghan Rewers; Executive Director of Crisis Nursery, with her son James, Sheriff Dave Mahon, Ron Will; Crisis Nursery Treasurer, and Bob Fergus; Blue Knights Chaplain.