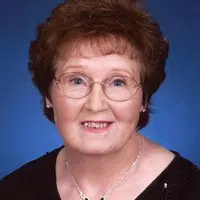 Mary L. Overbeck, 76 of Teutopolis, passed away Friday evening, June 29, 2018, at Carle Foundation Hospital in Urbana.
A Mass of Christian Burial will be held at 10:30 a.m. Friday, July 6, 2018, at St. Francis of Assisi Catholic Church in Teutopolis with burial in St. Francis Cemetery. A CCW rosary will begin at 3:30 p.m., followed by visitation until 7:00 p.m., Thursday evening at the church. Memorial donations may be made to the donor's choice.
Mary was born June 9, 1942, in Sigel, the daughter of Joseph and Theresa (Doedtman) Funneman. She married James L. Overbeck on April 20, 1963, and he preceded her in death in 1975. Mary was a member of St. Francis Catholic Church in Teutopolis and the St. Francis Council of Catholic Women. She was a long time employee of St. Anthony Memorial Hospital in Effingham. Mary had a love of birds and delighted in feeding and watching them.
Mary loved her family dearly and enjoyed the time she spent with them. They include her sons, Steve (Leslie), Michael and Joe, all of Teutopolis; daughter, Angie (Jason) Newkirk of Teutopolis and Jennifer (Thomas) Greuel of Sigel; brother, Clarence (Pat) Funneman of Sigel; sisters, Norma Althoff of Lillyville and Barb (Glenn) Davis of Stewardson; 11 grandchildren, Garrett, Dalton, Dylan, Tyler, Kaylee, James, Joshua, Torey, Samantha, Braiden and Claire; 4 great-grandchildren, Mason, Kaden, Carter and Emma.
Mary was preceded in death by her parents, husband and infant son, James.