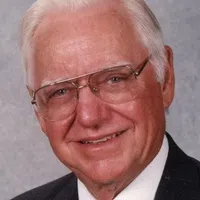 Paul W. Dempsey, 92 of Effingham, passed away Wednesday evening, June 27, 2018, at Lavender Ridge Memory Care in Effingham.Funeral services will be held at 10:30 a.m. Monday, July 2, 2018, at First Baptist Church in Effingham with burial in Oakridge Cemetery with military rites. Visitation will be held from 2:00 p.m. to 4:30 p.m. Sunday at Bauer Funeral Home in Effingham and for one hour prior to funeral service, Monday morning at the church. Memorials may be made to the donor's choice. Online condolences may be expressed at. www.bauerfh.com.

 

Paul was born October 30, 1925, in (Rice) Pickneyville, the son of James and Inez (Hutchings) Dempsey. He married Doris J. Ivy on August 6, 1948, and she preceded him in death in 2016. Paul served his country in the United States Navy from 1944 to 1946 on the USS Attala Navy Ship during WWII and was a part of the battle of Iwo Jima, Japan. Paul was a graduate of Southern Illinois University with a degree in Agriculture. He was a Financial Planner for over 49 years and was employed by IDS, which then became Ameriprise Financial. 

Paul was a bold witness for his Lord and Savior, very active in church and served in many capacities. He served as Chairman of the Deacons, Board of Trustees for the Baptist Children's Home, Sunday School Teacher, and Choir Director. He and Doris loved music and sang together for over 60 years. They enjoyed singing at the revival services, as well as being a part of the Baptist Singing Illinoians. Paul also served on the Board for the Illinois Baptist Association and was an active member of the Lions Club and Gideon's International. He was an avid golfer and loved to go to Florida in the winter.

Paul is survived by his two daughters, Cindy (Tony) Deters and Eydie (Tim) Carruthers; son, Steven Dempsey; brother, Warren (Ramona) Dempsey; sister, Edith Lively; grandchildren, Josh (Lora) Dempsey, Joe Esker, Megan (Jerrod) Wilson, Lauren (Reid) Ackerman, Matthew Deters and Sarah Deters and five great-grandchildren.

Paul was preceded in death by his parents; wife; daughter, Debbie Esker; daughter-in-law, Jenny Dempsey; grandchildren, Michelle Reeves and Jeremy Cox; brothers, Bob and Urban Dempsey and sisters, Floy, Ellice, Norma and May.