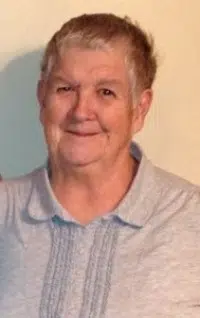 Gladys M. Nippe, 74, of Strasburg, IL, passed away at 9:50 a.m. Monday, June 25, 2018, in St. John's Hospital, Springfield, IL.
Funeral services will be held at 10:00 a.m. Saturday, June 30, 2018, in Grace Lutheran Church, Strasburg, IL with Rev. E. Wade Helmkamp officiating.  Visitation will be from 5:00-8:00 p.m. Friday, June 29, 2018, in the church.   Burial will be in Richland Cemetery in Strasburg, IL.  Memorials may be given to the Strasburg American Legion Auxiliary, Liberty Unit #289 or Strasburg Community Action Network (SCAN).
Gladys was born on March 10, 1944, in Peoria, IL, the daughter of Edward George and Minnie Belle (Whitesel) Agney.  She attended Clarksburg Grade School and graduated from Shelbyville High School the Class of 1963.  She was a cook for St. Paul's school, cared for children in her home and later worked for International Paper in Shelbyville, IL.  Gladys was a member of Grace Lutheran Church and American Legion Auxiliary, Liberty Unit #289 both in Strasburg, IL and enjoyed attending her grandchildren's sporting events.  Gladys married Noel B. Nippe on September 13, 1964.
She is survived by her husband Noel; daughters, Shirley Herrmann of Neoga, IL, Mary Tabbert (Dale) of Strasburg, IL and Susan Nippe of Beckemeyer, IL; sisters, Dorothy Woods of Chesterton, IN, Wanda Dickson (Jim) of Lake Placid, FL, and Ruth Navis of Shelbyville, IL; brother, James Agney (Nancy) of Shelbyville, IL; and five grandchildren, Tyler Herrmann, Mariah Tabbert, Kirby Herrmann, Will Tabbert and Clay Tabbert.
She was preceded in death by her parents; brothers-in-law, Gene Navis, Sam Woods, Richard Zientara, and Gerald Hieronymus; nephew, Fred Woods; great-niece, Courtney Agney; and great-nephew, Jason Navis.