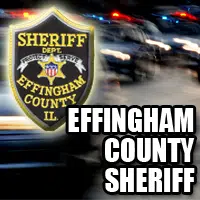 Montrose, IL-(Effingham Radio)- One person was injured in an accident that occurred on Monday, June 25, 2018; at approximately 9:47 pm.
The accident took place on N Spring Creek Road at Highway View Avenue in Montrose.
A report from the Effingham County Sheriff's Department states that a vehicle driven by 20 year old, Michaela Herpstreith, of Beecher City was traveling sound bound on Spring Creek Road.
Herpstreith lost control of the vehicle, skidded approximately 80 feet before striking the curb on the west side of the road.
The vehicle came to rest in the ditch.
Herpstreith was taken to HSHS St. Anthony's Memorial Hospital to treat minor injuries.
Michaela L. Herpstreith was cited for Driving Under the Influence, Failure to Reduce Speed to Avoid an Accident, Operating an Uninsured Motor Vehicle and Illegal Transportation of Alcohol.