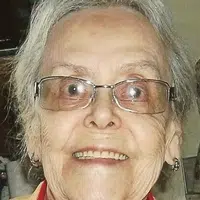 Eva J. Applegate, 94 of Effingham, passed away Thursday morning, June 21, 2018, at Lakeland Rehabilitation and Health Care Center in Effingham.
Funeral services will be held at 10:00 a.m. Monday, June 25, 2018, at Bauer Funeral Home in Effingham with burial in Oakridge Cemetery. Memorial donations may be made to the Effingham County Humane Society, P.O. Box 321, Effingham, IL 62401.
Eva was born January 13, 1924, in Jasper County, the daughter of John and Ola (Rinehart) Applegate. She was a seamstress at Wiedman Cleaners in Effingham for many years.
Eva is survived by her niece, Joyce Applegate and friends, Darrell & Lanora Quick, Wes & Carol Osborn, David & Linda Ervin, Gorden & Laura Martin and Ruth Gier. She was preceded in death by her parents and brother, Burl.