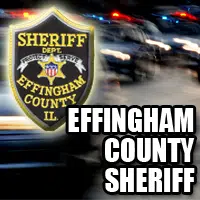 Mason, IL-(Effingham Radio)- One person sustained injuries in an automobile accident that occurred on State Highway 37, on June 19th, 2018 at 9:47 pm.
A 2005 Maroon Chevy Equinox, driven by 26 year old, Cayla C. Jolly was northbound on State Highway 37, approximately 1 mile south of 400th Ave.
A report states that the Jolly vehicle hydroplaned due to watery road conditions and lost control of the vehicle.
The Jolly vehicle then left the roadway, on the east side, striking the ditch and overturning.
Her vehicle then came to rest on it's side.
Jolly sustained non-incapacitating injuries and received treatment at HSHS St. Anthony's Memorial Hospital.
No citations have been issued.