Officials gather to highlight life-saving efforts of Peoria's Human Service Center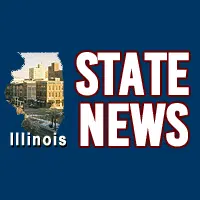 SPRINGFIELD, IL-(Effingham Radio)- Gov. Bruce Rauner and Lt. Gov. Evelyn Sanguinetti joined officials at the Human Service Center (HSC) in Peoria today, to meet with individuals who are receiving treatment for substance use disorder and discuss the state's latest efforts to combat the opioid crisis in Illinois.
"This epidemic is affecting every community and every demographic with tragic outcomes but we've made it a priority to get people the help they need," Rauner said.
"We've toured the state listening to people who need our help. We've helped over 4,000 people get connected to resources through our Opioid Helpline. We're limiting people's ability to doctor-shop and we've put life-saving medications in the hands of people whose loved ones are struggling with opioid use. They're the first line of defense in an emergency and over the past year, nearly 2,000 overdose reversals were reported. That's nearly 2,000 lives saved."
More than 150 of those reported overdose reversals occurred as a result of naloxone training services at the Human Service Center.
"Our goal is to assist the whole person and make sure they have a continuum of services that address both their mental health and substance use disorder issues," said Michael Kennedy, the facility's President and CEO.
"We've designed our system of care to integrate the behavioral and primary health care with a wide range of services – from crisis services to medical detoxification, medication assisted treatment, outpatient and/or residential services. The road to recovery is often difficult. Our role as a treatment provider is to help in making it smoother by ensuring coordination and collaboration of the services offered. "
Providers like HSC will have increased capacity to provide treatment through the state's recently launched Better Care Illinois initiative.
It's a major $2 billion behavioral health overhaul that will help deliver better outcomes for about 800,000 Medicaid beneficiaries suffering from mental health and substance use disorders.
The goal is to address the root of the problems and focus on whole person care, getting rid of medical silos and making sure providers have a complete understanding of what the patient needs.
Illinois' Opioid Overdose Prevention and Intervention Task Force, co-chaired by Lt. Gov. Evelyn Sanguinetti and Illinois Department of Public Health (IDPH) Director Nirav Shah, recently published its Implementation Report, highlighting some of the steps the state is taking to combat the opioid crisis.
"Our task force hit the ground running and has been working with our state agency directors to curb this growing epidemic that now kills more Illinoisans than car accidents and homicides. We have been extremely busy, but we are just getting started," Sanguinetti said.
"This epidemic knows no neighborhood, no color and no class. It's an equal opportunity aggressor, and it's going to take all of us working together to battle this scourge and save lives."
"Although we continue to see an increase in the number of opioid related deaths, the rate of increase is slowing down," Shah said.
"Among the many things that have contributed to this is the statewide Standing Order, which allows people access to the opioid overdose reversal drug naloxone, commonly called Narcan, without a prescription.  Naloxone offers a person the chance to decide that today is the day they will seek treatment in facilities like the Human Service Center."
The multi-agency efforts highlighted in the report include information about:
Expanded treatment through the Illinois Department of Human Services (DHS) "warm handoffs" initiative, which targets Illinois hospitals to ensure opioid overdose victims have access to treatment immediately following their release from the emergency room. To date, 80% of the handoffs have resulted in 1,287 patients seeking treatment.
DHS Vivitrol-based MAT services to justice involved individuals with opioid use disorder in county jails – they've served 300 clients so far.
Illinois' Department of Insurance conducted meetings with six of the largest healthcare providers to review mental health and behavioral health parity laws and ensure the companies are in compliance.
The IDPH Opioid Data Dashboard, an interactive website offering information on how opioids are affecting people in Illinois.  The dashboard includes data about the rate of fatal and non-fatal opioid overdoses by county, as well as the number of overdoses by zip code.
In Fiscal Year 2015, information reported to IDHS showed that just more than 1,000 individuals were trained to reverse an opioid overdose in Illinois.  In Fiscal Year 2017, more than 12,000 first responders and bystanders were trained to use naloxone.  And so far in Fiscal Year 2018, more than 25,000 people have been trained to reverse an opioid overdose using this life-saving medication.
Since IDPH released the Illinois Naloxone Standing Order in October 2017, 166 pharmacies and opioid overdose education and naloxone distribution (OEND) programs have applied for and used the Standing Order.
Through IDPH's Rural Opioid Overdose Prevention Program, municipal and county law enforcement agencies in 18 rural counties in south-central Illinois are receiving free naloxone.
The Helpline for Opioids and Other Substances was launched in December of 2017 and since then it has received more than 4,000 calls.
DHS is also making another 24/7 resource available, with the launch of the Helpline Illinois website, which puts important treatment and recovery information at the fingertips of those impacted by substance use disorder.
"We want people to know that help is here in Illinois. We've been working to not only expand access to treatment and recovery services across the state for all income levels but also to synthesize information about treatment and recovery services so anyone can find it," said IDHS Secretary James Dimas.
"Now, whether you pick up the phone or go online, you have 24/7 access to information about your options."
Illinois continues to implement measures aimed at combating the opioid crisis and reducing the amount of deaths that result from opioid overdoses.
Just last month, IDHS announced that the state was awarded another $16 million in federal funding to continue its efforts.
If you or someone you know is experiencing opioid use disorder, call the state's Helpline for Opioids and other Substances at 1-833-2FINDHELP or visit HelplineIL.org.