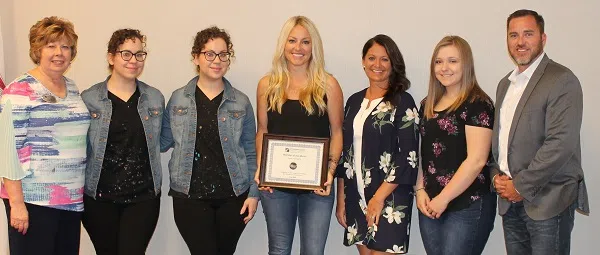 The Effingham County Chamber of Commerce recognizes StangArts Studio as the Chamber's June Member of the Month.
 Effingham, IL-(Effingham Radio)- Jamie Stang Ellis, a native of Effingham County, started her career like most entrepreneurs – becoming a personal trainer, spending time as a bartender, as a street artist in New Orleans and returning to her hometown to open her own art studio.
StangArts Studio opened in 2011 in downtown Effingham and has continued to expand its space and programming to accommodate the community's interest in the arts. StangArts offers public classes for children and adults, private lessons, after school and homeschool programs and hosts private parties and kids summer camps.
They teach about 1500 kids & adults each month. Plus, they return 20% to the schools. In the past school year, $25,000 went to the schools. Jamie and her team also participate in many community events, doing face painting, displaying art and doing live painting. In honor of the Chamber's Centennial, Jamie painted a beautiful mural that is on display at the Chamber office at 903 N Keller Drive.
Through her art and passion for animals, Ellis gives back in so many ways by helping with animal rescues, many times driving hours away to take care of animals in need. She is an Ambassador for the CEO Program; recipient of the Top Community Leaders Under 40 Award; serves on the Chamber Annual Business Recognition Gala committee and Downtown Effingham Business Group. This year, StangArts will be the judging headquarters for the EffingHAM-JAM.
To learn more, visit www.stangarts.com.