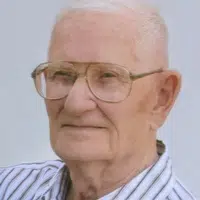 William G. "Bill" Kenter, 90 of Effingham, passed away Saturday morning, May 5, 2018, at Lakeland Rehabilitation and Healthcare Center in Effingham.
A Mass of Christian Burial will be held at 11:00 a.m. Thursday, May 10, 2018, at St. Anthony of Padua Catholic Church in Effingham with burial in St. Anthony Cemetery. Visitation will be held from 9:30 a.m. to 10:30 a.m. Thursday morning at Bauer Funeral Home in Effingham. Memorials may be made to the Alzheimers Association.
Bill was born July 27, 1927, in Effingham, the son of William H. and Florence (Weber) Kenter. He married Gertrude F. Hartke on August 31, 1946. He was employed as a mechanic at 76 Truck Stop in Effingham for over 20 years. Bill was a member of St. Anthony of Padua Catholic and the Effingham Knights of Columbus Council #665. 
Bill is survived by his wife, Gertrude of Effingham. They are the parents of Michael Kenter, who died serving our country in Vietnam, Joseph (Lynette) of Weston, NE, Dick (Lucy) of Effingham, John (Ladeana) of Effingham, Bill (Cindy) of Beason, Susan (Kevin) Knecht of Springfield; Amy (Tim) Mehl of Altamont, Ellen (Javier) Navarro of Shumway; 23 grandchildren and 30 great-grandchildren. 
Bill was preceded in death by his parents; infant sister, Mary; son, Michael; grandson, Christopher, and granddaughter, Jennifer.