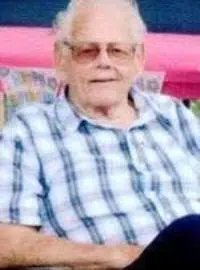 Berle Leroy Potter, age 83, of Kinmundy, passed away at 4:07 am, Saturday, May 5, 2018, at his daughter's home in Kinmundy.
Berle was born on December 16, 1934, in Mason, IL the son of the late Virgil Rufus Potter and the late Alice Grace (Whitt) Potter. He was united in marriage to Shirley Joan Potter on September 9, 1955, at the Farina Baptist Church. She preceded him in death on July 31, 2011.
He was a member of the Meacham Baptist Church and was employed as a truck driver with Brown's and a custodian of the Kinmundy and Alma schools. He was also a part-time employee for Neal Funeral Home for over 25 years.
He is survived by son Ronnie (Audrey) Potter of Salem; daughters; Vickie (Gene) Simmons of Farina, Janie Vest of Kinmundy, Deana (Keith) Van Scyoc of Farina, Debbie (Jim) White of Kinmundy; brother, Robert (Atoyna) Potter of Kinmundy; brother-in-law, Nolan Wooden of Kinmundy; sister, Eva West of Kinmundy; sister-in-law, Pat Potter of Kinmundy; 17 grandchildren, 38 great-grandchildren and 1 great-great-grandchild.
Berle is preceded in death by his parents, wife, brother Lawrence Potter, sister Iva Wooden, sister-in-law Joyce Potter, granddaughter Jennifer Potter and grandson Zachariah Vest.
Arrangements are entrusted to Neal Funeral Home of Kinmundy. Cremation rites will be accorded and a memorial service will be held Saturday, May 12, 2018, at Elder Cemetery in Kinmundy.
Memorial donations may be made to the donor's choice and will be received at the funeral home.