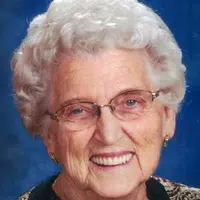 Dolores Ann "Dory" Thoele, 88 of Teutopolis, passed away Tuesday, April 24, 2018.
A Mass of Christian Burial will be held at 10:30 a.m. Monday, April 30, 2018, at St. Francis of Assisi Church in Teutopolis with burial in St. Francis Cemetery. A Ladies Rosary will be held at 3:45 p.m. Sunday at the church, with visitation from 4:00 p.m. to 7:00 p.m. A parish prayer service will be immediately following. Memorial donations may be made to Meals on Wheels or the donor's choice.
Dory was born March 27, 1930, in Effingham, the daughter of Bernard and Christine (Metten) Dasenbrock. She married Leroy Thoele on August 11, 1956. Dory worked at Norge Factory, St. Anthony's Hospital and Illinois Glove Factory in Effingham. She assisted her husband on the family farm after they were married and worked at Heartland Greenhouse in her retirement years. Dory was a member of St. Francis of Assisi Church in Teutopolis, Teutopolis CDA, St. Francis Altar Sodality of Catholic Women and past member of Teutopolis church choir.
Dory had an avid love of gardening and flowers. Dory and Leroy supplied and maintained flowers for the Teutopolis church for over 20 years. She was known for the beautiful flowers at her home in Teutopolis. Dory worked side by side with her husband on the farm, and could often be seen driving their John Deere tractors in the field. They delivered Meals on Wheels for 26 years. Dory loved to keep busy with her many card clubs, bowling, gardening, quilting, and square dancing with Leroy.
Dolores leaves behind her loving husband of 61 years, Leroy Thoele of Teutopolis; daughters, Monica Niemerg of Teutopolis and Kathy Dust of Effingham; sister, Martha Thoele of Teutopolis; grandchildren, Amber (Paul) Frohning of Newton, Clint (Brittany) Niemerg of Teutopolis, Cassandra (Dexter) Hille of Effingham, Shane Niemerg and Hanna Niemerg of Teutopolis, Joshua Dust of Effingham, Jason Dust of Teutopolis, Justin (Nikki) Dust of Effingham and Jacob Dust (friend, Jill Weishaar); great-grandchildren, Blake Frohning and Clay Frohning of Newton, Lane Niemerg of Teutopolis and Wyatt Hille of Effingham. She also leaves behind many friends, nieces, and nephews.
Dolores was preceded in death by her parents; brother, Arthur Dasenbrock; son-in-law, James Dust; Alf and Annie Thoele, Art and Irene Buhnerkempe, and Richard Thoele.