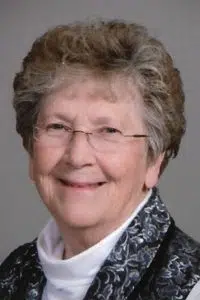 Zita M. Niebrugge, 78 of Teutopolis, passed away Sunday afternoon, April 22, 2018, at St. John's Hospital in Springfield.
A Mass of Christian Burial will be held at 10:30 a.m. Friday, April 27, 2018, at St. Francis of Assisi Catholic Church in Teutopolis with burial in St. Francis Cemetery. The ladies of the C.C.W. will pray the rosary at 4:00 p.m., followed by visitation until 7:00 p.m., Thursday evening at the church. A parish prayer service will be held at the conclusion of visitation. Memorial donations may be made to St. Francis Religious Education Program. Online condolences may be expressed at www.bauerfh.com.
Zita was born February 3, 1940, in Teutopolis, the daughter of Albert and Christine (Hoene) Habing. She married Leroy A. Niebrugge on June 9, 1962, in Teutopolis and he preceded her in death on June 1, 2006. Zita was a member of St. Francis of Assisi Catholic Church in Teutopolis, St. Francis Council of Catholic Women, volunteered with Meals on Wheels and was a religious education teacher for over 30 years.
Zita is survived by her son Joe (Amy) of Teutopolis; daughters, Kay (Tim) McMahon of Teutopolis, Paula (Dave) Westendorf of Teutopolis and Ellen (Payson) Moreland of Ottumwa, IA; siblings, Dorothy (Carl) Bushur of Effingham, Louise Sheehan of Teutopolis, Mark (Jean) Habing of Teutopolis, Susan (Richard) Vasquez of Decatur, Fr. Paul Habing of Marine and Lawrence (Rita) Habing of Teutopolis; grandchildren, Holly (Ryan) Jansen, Melissa (Tyler) Ziegler, Stephanie McMahon, Kyle McMahon, Brooke Westendorf, Jason Westendorf, Matthew Moreland and Benjamin Moreland; great-grandchildren, Grady, Maggie, Griffin, Lola, Luke, Charlie and Natalie; brothers and sisters-in law, Florence Doedtman of Effingham, Bertha Bushur of Effingham, Carol Niebrugge of Effingham, Virgil (Mary) Niebrugge of Effingham and James (Alice) Niebrugge of Teutopolis.
Zita was preceded in death by her parents; husband and brothers-in-law, William Sheehan, Frank Doedtman, Harold Bushur and Wilbert Niebrugge.