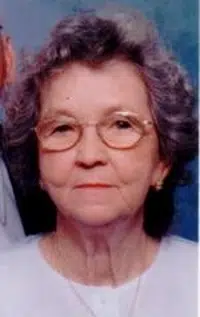 Norma Dean Seymore, age 89, of Louisville, IL, passed away at 1:15 am on Wednesday, April 18, 2018, at Flora Gardens Care Center in Flora, IL.
Norma was born Wednesday, September 26, 1928, the daughter of the late Everett Carter and the late Myrtle (Trowbridge) Carter. She was united in marriage to Mr. Seymore and he preceded her in death in an auto accident. She was then united in marriage to James Robey who also preceded her in death in an auto accident in the year 1975. She is survived by her current husband, William Seymore who survives in Alabama.
She was employed by Fedders Inc. as well as other factories as a laborer and enjoyed fishing, camping and loved time in the outdoors.
Norma is survived by sons, John (Joyce) Robey of Louisville, Randy Robey of Atlanta, GA; 5 grand children; 8 great grand children.
She was preceded in death by her first two husbands, parents, son, Mark Robey and five brothers, Lester, Lowell, Glen, Howard and Ernest Carter.
Arrangements are entrusted to J.W. Neal Funeral Home of Louisville. Cremation rites will be accorded. Memorial contributions may be sent to Clay County Hospice and will be received by the funeral home.