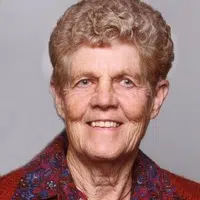 Barbara J. Deters, 79 of Lillyville, passed away Monday evening, April 9, 2018, at her home.
A Mass of Christian Burial will be held at 10:30 a.m. Friday, April 13, 2018, at Sacred Heart Catholic Church, Lillyville, with burial in the church cemetery. Visitation will be held from 4:00 p.m. to 7:00 p.m. Thursday evening at the church with a 7:00 p.m. parish prayer service. Memorial donations may be made to the ALS Association.
Barbara was born May 19, 1938, the daughter of Herman "Harry" and Isabelle (Ruholl) Helmink. She married Don C. Deters on October 10, 1959, and he survives. Barbara was a member of Sacred Heart Catholic Church, Lillyville, Sacred Heart Council of Catholic Women, as well as the Catholic Daughters of the Americas. She worked at Teutopolis Unit 50, Samuel Music Company and the Teutopolis State Bank. Barbara enjoyed playing cards and spending time with her family, whom she loved dearly. 
Barb is survived by her husband, Don of Lillyville; sons, Dave (Patty) of Grand Junction, CO, Brian (Kathy) of Fredericksburg, VA and Bruce (Lynn) of Montrose; daughters, Debra Wendt of Effingham, Vicky (Tim) Gress of Mansfield and Lylah (Kevin) Flach of Montrose; sister, Ann Hemmen and brother, Larry Helmink; 17 grandchildren and 6 great-grandchildren. 
Barb was preceded in death by her parents; brothers, John Helmink and Joe Helmink; daughter, Marilyn, and son-in-law, Larry Wendt.