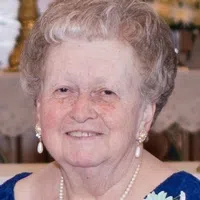 Jane M. Hewing, 80 of Sigel, passed away Wednesday evening, March 28, 2018, at HSHS St. Anthony Memorial Hospital in Effingham.
A Funeral Mass will be held 4:00 p.m. Monday, April 2, 2018, at St. Michael the Archangel Catholic Church, Sigel, with private family burial in St. Michael Cemetery at a later date. Visitation will be held from 1:00 p.m. to 4:00 p.m. Monday afternoon at the church.  Memorial donations may be made in care of Jane's family.
Jane was born April 23, 1937, in Grove Township, the daughter of Lawrence and Dorothy (Bergbower) Meinhart. She married Robert G. Hewing on July 5, 1958, at St. Joseph Church in Island Grove and he preceded her in death in 2014. Jane was a member of St. Michael the Archangel Catholic Church in Sigel and the St. Michael Council of Catholic Women. She and her husband operated the Sigel Grocery for many years.
Jane is survived by her son, Gerald "Gerry" Hewing of Sigel; four daughters, Karen (Dennis) McCloskey of Philadelphia, PA, Rita Hewing of Sigel, Donna (Jim) Fancher of Mason and Joyce (Rob) Crotser of Mt. Airy, MD; brother, Dan (Mary) Meinhart of Island Grove and sister, Carol Buenker of Teutopolis; fifteen grandchildren and four great-grandchildren.
Jane was preceded in death by her parents, husband and daughter, Patricia Probst.