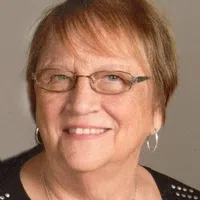 Lorraine A. Lidy, 74, passed away Sunday morning, March 25, 2018, at her home in rural Effingham.
A Mass of Christian Burial will be held at 10:30 a.m. Wednesday, March 28, 2018, at St. Aloysius Catholic Church, Bishop Creek, with burial in the church cemetery. Visitation will be held from 4:00 p.m. to 7:00 p.m. Tuesday evening at the church with a 7:00 p.m. parish prayer service. Memorial donations may be made to St. Anthony Hospice or Meals on Wheels.
Lorraine was born July 5, 1943, in Cumberland County, the daughter of Victor and Lavina (Nosbisch) Will. She married Richard L. Lidy on June 22, 1963. Lorraine was a member of St. Isidore Parish and the St. Isidore Council of Catholic Women. She worked at Niemerg's Steakhouse for 32 years and was a member of the Home Extension Association.
Lorraine is survived by her husband, Richard of rural Effingham; sons, Randy (June) and Rodney (Brandi), both of Dieterich; daughter, Jody (Craig) Probst of Montrose; grandchildren, Brock (Whitney), Levi, Grant, Andrew, Laura, Mason, Kelsey, Cole and Wyatt; sisters, Madonna (Leonard) Vahling of Wheeler, Virginia (Lonnie) Soltwedel of Effingham and Kathy (Robert) Einhorn of Teutopolis; brother, Leo Will of West Frankfort; mother-in-law, Eunice Lidy of Dieterich; brothers-in-law, Bruce (Cindy) Lidy of Dieterich and Gary (Marri) Lidy of Effingham.
Lorraine was preceded in death by her parents and two brothers, James and Robert Will.