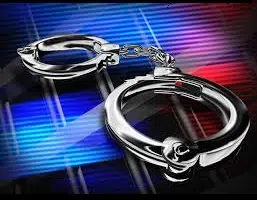 Effingham, Il – Justin R. Kollman was being pursued last Friday, at 8:45 p.m. by Stewardson Police Department (SPD) for a traffic violation at the time of the Accident.
Kollman was traveling southbound on 900 St. south of 2100th Ave. in Banner Township.
As he was being pursued, Kollman lost control of the vehicle that led to him driving into the east ditch, and over to the west ditch in the nearby field near the roadway.
Kollman continued to drive in the field until he crashed into a tree.
Immediately after, he fled the scene of the accident until he was caught by SPD.
He was taken to HSHS St. Anthony's Hospital for injuries, but is also facing the following charges:
Reckless Driving
Driving without a seat belt
Driving without a driver's license
Operating an uninsured vehicle
Leaving the scene of an accident
resisting arrest
Possession of a firearm by a felon
Driving without lights (when required)
Driving in the wrong lane
Unlawful display of registration