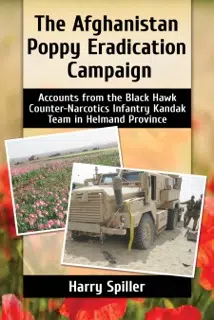 A book signing is being held this Saturday at Village Wine and Gifts in Effingham from 2:00pm to 5:00pm.
Author Harry Spiller will be signing copies of his book, titled Afghanistan Poppy Eradication Campaign. We recently spoke with Mr Spiller about the book. He stated that it covers the mission of a 16 man Black Hawk Narcotics team that took part in the eradication of poppy in the Afghanistan War. In the book, Spiller accounts the units operation as they helped to eradicate poppy in 2008 and 2009 that was being used to make drugs, such as heroin.
Spiller stated that his book is for sale online at Barnes & Noble and Amazon. Spiller will also have copies of his book for sale at the book signing on Saturday.
Listen to the full interview with Harry Spiller below.
(Photo courtesy of Harry Spiller)