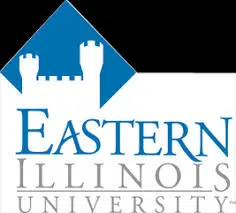 ***PRESS RELEASE***
Charleston, Il – Eastern Illinois University's Bailey Angeline Martin-Giacalone of Belleville has been selected by the Lincoln Academy of Illinois Student Laureates to accept the Abraham Lincoln Civic Engagement Award, and to speak as a representative of all Illinois Student Laureates in a November 11 ceremony in Springfield.
Martin-Giacalone, a senior-level honors student majoring in biological sciences, will head to Springfield with her nominator, Sara Schmidt, Coordinator of Honors Student Development at EIU, to participate in the weekend ceremony.
"I am incredibly humbled and grateful to be selected as a Lincoln Academy Student Laureate and additionally be chosen as the student speaker for the ceremony," Martin-Giacalone said about receiving the award, and the honor to speak on behalf of all laureates.
It is due to the unparalleled support that I have received from EIU faculty and staff, as well as my family, that I get to represent EIU by accepting this honor.
Each fall, an outstanding senior from each of the four-year degree-granting institutions of higher learning in Illinois is awarded the Abraham Lincoln Civic Engagement Award and thereby becomes a Student Laureate of The Lincoln Academy of Illinois.
In the spirit of Lincoln, Student Laureates are honored for their leadership and service in the pursuit of the betterment of humanity and for overall excellence in curricular and extracurricular activities.
According to her nomination, Martin-Giacalone is a top student at EIU with a 3.93 cumulative GPA and a 4.0 GPA for all courses completed toward her biological sciences major and all music courses completed toward her minor.
During her time at EIU, she has pursued a range of experiences in science and service, including an internship at the Illinois Summer Neuroscience Institute, clinical rotations and operating room observations at Cardinal Glennon Children's Hospital in St. Louis, the University of Massachusetts Summer Undergraduate Research Fellowship Program, and the Purdue University Summer Research Opportunities Program based in Mattoon.
She also has assisted Dr. C.C. Wharram in the EIU Center for the Humanities with a project examining dying in an age of health and in organizing lectures focused on public health issues.
Soon, she also will join Dr. Gary Bulla's lab on the EIU campus.
Martin-Giacalone is also an avid volunteer.
She visits and assists with social activities for residents of the Charleston Rehabilitation and Health Care Facility, serves on the University Housing and Dining Services Health and Wellness Committee, and is part of the university's Social Justice League.
In these roles, she has developed and presented programs focusing on life, leadership and overcoming challenges.
In 2016, she received both the Brad Wright Resident Assistant Award and Scholarship and the Social Justice Advocate Award.
Martin-Giacalone indicates three potential academic and professional paths she would be equally interested in pursuing.
They include an M.D./Ph.D.in Molecular and Cellular Physiology; a Ph.D.in Epidemiology and Clinical Research; or a Ph.D. in Social Sciences, Humanities, and Interdisciplinary Policy Studies focused on Race, Inequality and Language. In each of these programs, she sees unique opportunities for developing the skills and networks needed to build and maintain diverse teams of medical practitioners capable of effectively addressing issues having global impacts.
"It will be exciting to see how Bailey makes great contributions to society," said Schmidt, her nominator.
"It is certain that Bailey will make a real impact where it is needed most. "
Since the program's inception in 1975, over 2,000 Illinois students have been honored as Lincoln Laureates.
According to the organization's website, each recipient is selected "to honor individuals whose contributions to the betterment of humanity have been accomplished in or on behalf of the State of Illinois, or, whose achievements have brought honor to the state because of their identity with it, whether by birth or residence, or by their dedication to those principles of democracy and humanity as exemplified by the great Illinoisan whose name we bear."
For more information visit Lincoln Academy of Illinois. For more information about EIU, or to learn more about its various programs and services, or visit the EIU website or call EIU's public information office at (217) 581-7400.
Press Release courtesy of Eastern Illinois University