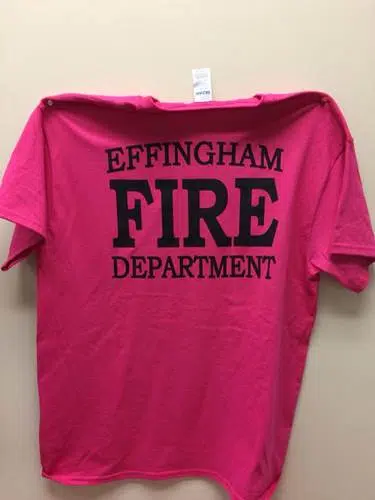 Effingham, Ill – The Effingham Fire Department (EFD) is taking part in the Nationwide "Care Enough to Wear Pink Campaign.
In a press release obtained from EFD, " Personnel of Effingham Fire Department (EFD) are replacing their blue uniform shirts for pink tee-shirts the entire month of October, part of a nationwide effort to raise awareness about breast cancer.
"EFD is joining fire departments across the country in the "Care Enough to Wear Pink" campaign to show support for individuals who have battled, or are currently battling this deadly disease."
October is Breast Cancer Awareness month.
In recent reports, the American Cancer Society released their latest research showing the drop in death rates for breast cancer patients.
The American Cancer Society found that rates from breast cancer in the United States have dropped 39% between 1989 and 2015.
The total avoided deaths in the 26 year period was 322,600, however breast cancer is still the most cancer among women in America.
At the close of 2017, 252,710 estimate women will be among those diagnosed with the disease.
The risk increases as a person ages with 9 out of 10 disease-related deaths being in women over the age of 50.