Six pounds of heroin were recently seized during a traffic stop that occurred on I-70, east of Vandalia.
According to a press release from the Illinois State Police, a trooper pulled over a vehicle driven by 37 year old, Juan Contreras-Ibarra, of Garden Grove, California at approximately 8:10am on Sunday. Contreras-Ibarra was pulled over for speeding, but during the stop six pounds of heroin was discovered with an estimated street value of $960,000.
Contreras-Ibarra was taken to the Fayette County Jail, where he is being held with a bond of $100,000.  Contreras-Ibarra appeared in Fayette County Court on Tuesday and was appointed Public Defender Starnes and was advised of his rights. He will appear again on November 1st at 11:00am for his preliminary hearing and first appearance with counsel.
Contreras-Ibarra is charged with Controlled Substance Trafficking, a Class X Felony punishable by 6-30 years, and Possession of a Controlled Substance, a Class 1 Felony punishable by 4-15 years.
Illinois State Police District 12 Commander, Captain Cory Ristvedt stated, "The Illinois State Police is committed to battling the state and national opioid abuse epidemic and we will continue our efforts to rid our communities of this harmful substance".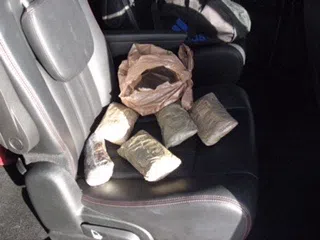 (Photo courtesy of Illinois State Police District 12)