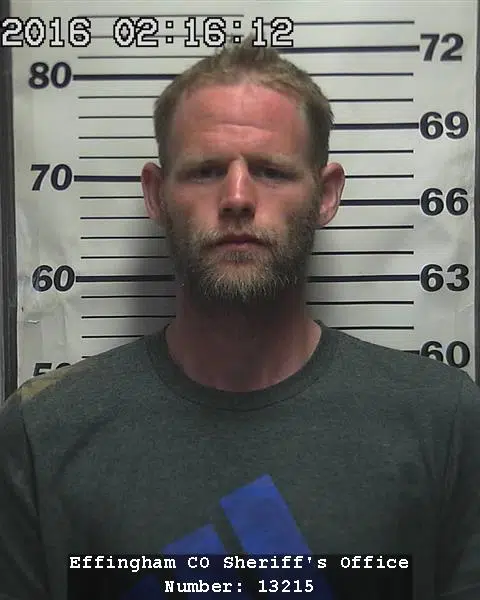 UPDATE: Langford has been taken into custody.
According to a press release from the Effingham County Sheriff's Department, Langford was taken into custody on Sunday, October 22nd at 9:45pm at a mobile home in Lakewood Manor Trailer Park. The Sheriff's Department also thanked the Effingham Police Department and the Illinois State Police in the press release for their assistance in the case.
Sheriff Mahon stated, "I am very proud of the work the Effingham County Sheriff's Office did over the weekend, in following up the many leads and locating the fugitive, Scott Langford. I would like to thank those good citizens of Effingham County, who came forward and assisted the Sheriff's Office with information that led to his arrest. With the help of our Community, we can make a difference."
***Original Post: October 10, 2017***
A Dieterich man is wanted by the Effingham County Sheriff's Department for allegedly discharging a weapon at a residence.
According to a press release from the Effingham County Sheriff's Department, Sheriff's Deputies were called to a residence at 204 W Center St in Dieterich on October 5th at 11:20pm. Upon arrival, Deputies spoke with the victim and witnesses, while attempting to locate 33 year old, Scott Langford, whom allegedly discharged the weapon at the victim while in the residence. The next day, Deputies and Detectives collected evidence at the residence with a search warrant. An arrest warrant was also issued for Langford for Reckless Discharge of a Weapon and Possession of a Weapon by a Felon.
Langford's whereabouts are unknown and he is believed to be armed and dangerous. He is described as a 6'1″ tall male with brown hair and blue eyes. Anyone with information in regards to Langford's whereabouts are encouraged to call the Sheriff's Department at 217-342-2101 or Effingham County Crime Stoppers at 217-34SOLVE.
(Photo courtesy of the Effingham County Jail)
All persons listed are innocent until proven guilty in the court of law.