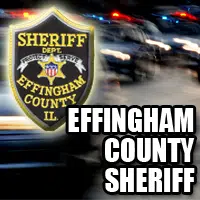 A Sex Offender Compliance Detail was recently held in Effingham County.
The Effingham County Sheriff's Department and United States Marshal Service worked together to conduct the detail on Tuesday, with assistance from the Effingham County State's Attorney Investigator and a member of the Department of Homeland Security. The detail was started with a short briefing at the Sheriff's Department, where each team was given a list of Offenders. During the detail, 38 Adults Sex Offenders, 12 Juvenile Offenders, and four violent offenders were confirmed to be in compliance with Illinois' Sex Offenders laws. Additionally, 19 of the Offenders were discovered to be living in Effingham, eight in Altamont, and the remaining 27 live throughout the rest of the County.
According to Illinois Law, convicted Sex Offenders are required to have a valid driver's license or Illinois Photo ID. One Offender, Christopher Buening, was found to be out of compliance and seven others were flagged for additional investigation for minor violations. Effingham County Sheriff, Dave Mahon, thanked the US Marshal Service, State's Attorney Investigator, and Department of Homeland Security for their assistance.