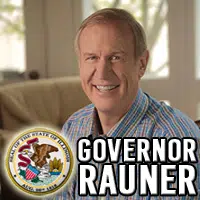 Governor Rauner has made good on his promise to amendatory veto the school funding bill.
Governor Rauner's Office announced the veto on Tuesday. Governor Rauner has asked that the Illinois General Assembly uphold his changes to the bill as Illinois will have achieved historic education funding reform.
Over a year ago, Governor Rauner established the Illinois School Funding Reform Commission to study how Illinois funds its schools and find a way to fund schools in a fair and equitable way. Governor Rauner says that the changes he has made to the school funding bill will do so.
The following changes to Senate Bill 1, or the school funding bill, were made by the Governor's amendatory veto.
Maintains the per-district hold harmless until 2020-2021 then it moves to a per-pupil hold harmless based on the three year rolled average of enrollment.
Removes the minimum funding requirement.
Removes the Chicago block grant from the funding formula.
Removes Chicago public schools pension considerations from the funding formula.
Reintegrates the Chicago public schools cost pick-up into the Pension Code, treating Chicago like all other districts in regards to the State's relationship with teacher's pensions.
Eliminates PTELL and TIF assessed value subsidies that currently allow districts to under-report property wealth.
Removes escalators in the Bill that automatically increases costs.
Removes accounting for future pension costs, preventing districts from fully taking responsibility of normal costs of teacher's pensions.
And retains the floor for regionalization and equity and adds a cap for adequacy.
Senate Bill 1 now heads to the General Assembly.