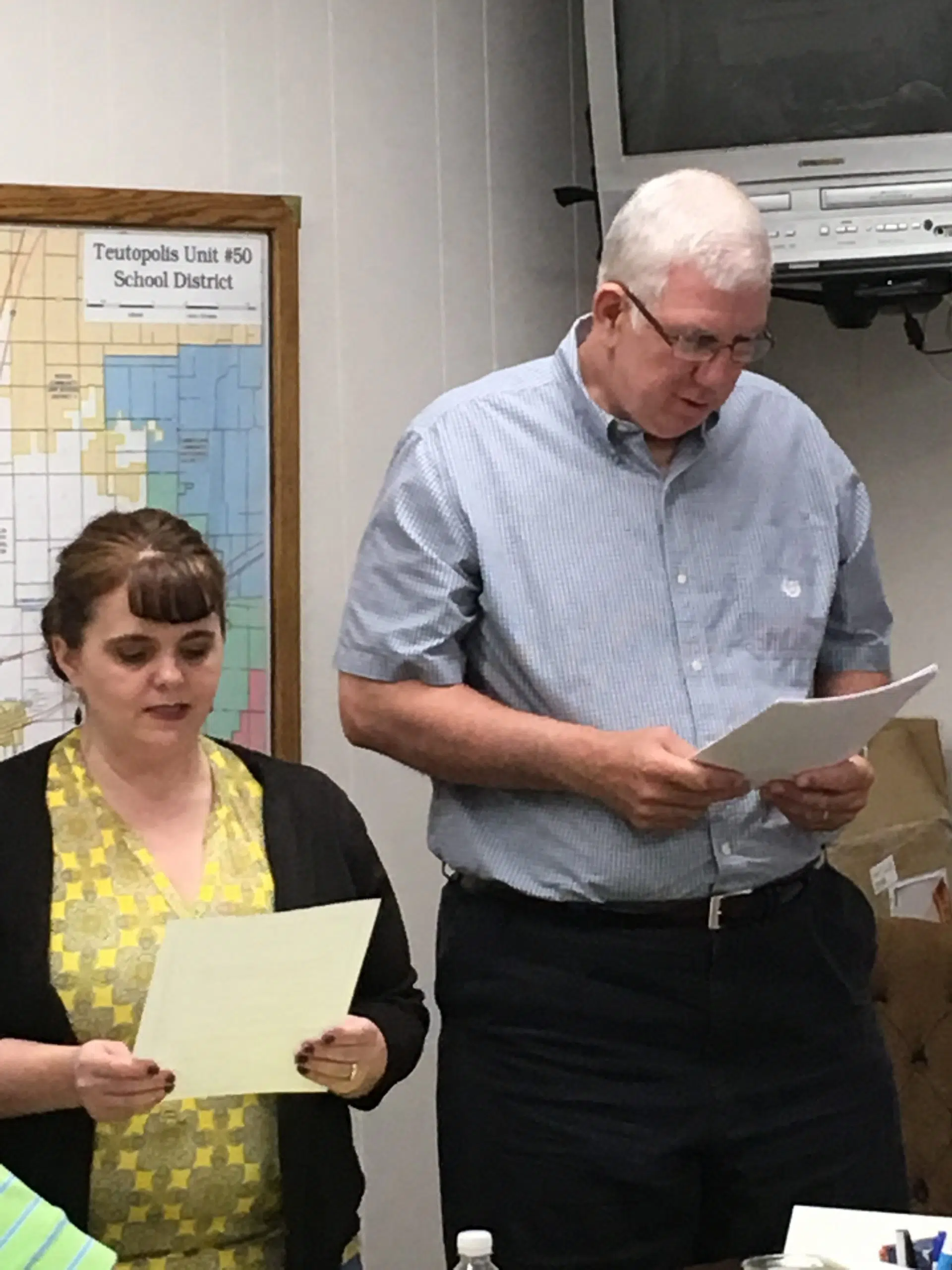 The Teutopolis School Board said goodbye to two former board members, while welcoming two new members during their meeting on Thursday.
To being their meeting, the Board thanked Carl Repking and Dan Burke for their time on the Board. Carl Repking and Dan Burke served 8 and 4 years on the school board, respectively. The Board then swore in Courtney Tegeler and Leon Gobczynski as new members. The Board then elected the Board President (Jim Buhnerkempe), Vice President (Gene Niemerg), Secretary (Brad Koester), and Treasurer (Leslie Hille). Courtney Tegeler and Chandler Hewing were appointed to the Teutopolis Educational Foundation, while Gene Niemerg and Leon Gobczynski were appointed to EIASE.
Additionally, the Board discussed adding an additional section for the Kindergarten class for next school year. There are currently 73 children registered. If the Board had kept the Kindergarten sections at three, it would make the class sizes 23-24 kids per each class. However, the Board decided to add an additional section, making the class sizes 18-19 kids.
Other items covered at the Teutopolis School Board meeting was:
The Board discussed the Effingham County Sales Tax vote and how they wish to proceed from here. During this discussion, the Board tabled discussing building improvements pending a special board meeting for the matter.
Received reports from principals, including end-of-the-year activities and graduations.
Hired Michael Buening as Junior High Cross Country Coach, Ashli Davidson as THS Pomerettes Sponsor, Melissa Zeigler as part-time Preschool Teacher, Maggie Bosgraff as TJHS Language Arts and Literature teacher, Monica Kremer as THS Secretary, Randi Yager as TGS teacher, Traci Chojnicki as TGS teacher, Elizabeth Walker as TGS teacher, Amy Nice as District Librarian, and Mary Jo Kreke as a Kindergarten teacher.