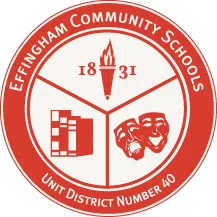 EFFINGHAM — Effingham Unit #40 Superintendent Mark Doan is weighing options after the proposed penny school tax was defeated on Tuesday. The district has serious infrastructure needs at both Effingham Junior High School and Central Grade School and now won't have the funding mechanism they were counting on. However, Doan said that there are options. "Let's be clear here," Doan said. "The district can sell health/life/safety bonds anytime." Whether the district sells bonds will depend on the newly seated Board of Education. Three new members, Patricia Russell, Angela Byers, and Kathleen Smith, all ran unopposed. The Board also has the option of again proposing the penny sales tax at a future election.
Doan also thanked those who voted in the election. "This is the American way," Doan said. "I appreciate people sharing their votes one way or the other."
The District sold 5.4 million in bonds last week for maintenance projects at Central Grade School and Effingham High School. Doan says that because the new bonds are simply extensions of previous ones, the property tax rate will not increase.