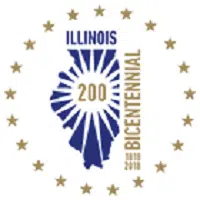 (Springfield, IL)  — Governor Rauner is showing off the special new state logo designed as part of the state's 200th anniversary.  Rauner unveiled the blue and gold logo at the first meeting of the Illinois Bicentennial Commission, which is planning the festivities for 2018.  The logo is shaped like the state and features 21 gold stars, commemorating Illinois as the 21st state in the union.  In the middle is a gold-colored figure "200" in a white sunburst.
David Stewart/at  IL)  STL)   MO)
Copyright © 2017
TTWN Media Networks Inc.