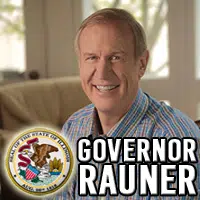 Governor Bruce Rauner announced on Friday, December 23rd staff appointments and transitions that will take effect in January, 2017.
It was announced that current Illinois Department of Insurance Director, Anne Melissa Dowling, will be returning to private sector in January. Replacing Dowling is Deputy Chief of Staff for Policy in the Office of the Governor, Jennifer Hammer. Hammer has experience in healthcare law and policy and currently oversees all policy-making decisions in the Governor's Office. Hammer had previously served as the Policy Adviser for Healthcare and Human Services and Special Counsel to the Governor.
Additionally, Tim Nuding, Director of the Governor's Office of Management and Budget (GOMB) will be leaving State Government, following a 27 year career. The Current Governor's Office of Management and Budget Chief of Staff, Scott Harry, will take on the role of Director. With 27 years of experience working for the State of Illinois in budgeting, financial management, and grant accountability, Harry was named the (GOMB) Chief of Staff in January 2015.
Governor Rauner also appointed Michael Mahoney as the Deputy Chief of Staff for Policy and Legislative Affairs. The current Deputy Chief of Staff, Mitch Holzrichter, is joining the law firm, Mayer Brown LLP, in Chicago. Holzrichter will continue as Deputy Chief of Staff through the end of the 99th General Assembly.
Governor Rauner also announced that Jim Kaitschuk was named to the role of Senior Adviser for Legislative Affairs and Administrative Policy Initiatives, Bob Stefanski was named Director of House and Senate Operations, Brian Oszakiewski (the current Policy Adviser for Transportation and Infrastructure) is the new Director of Policy, Phillip Rodriguez was named the Deputy Chief of Staff for Public Engagement, Brad Hahn is the new Director of Communications, Catherine Kelly is the Deputy Director of Communications, and Allie Bovis is the Press Secretary.