Community Support Systems announced the winners of their annual awards for 2016. The recipients were recognized on Friday, December 9th for their extraordinary support of Community Support Systems. The recipients are as follows:
Advocate of the Year– Janet Clark of Robinson. As a mother, board member, event planner, and supporter of those with disabilities, Clark addressed then often overlooked need for socialization in the lives of individuals with disabilities. Clark took action regarding this need in the CSS Vocational Department in Olney.
Business of the Year– Totten Law Office. Bill Totten, of Totten Law Office, is a staunch defender of the rights and freedoms for those with disabilities. At the same time, Totten is known for communicating legal matters in a way that is easy to understand.
Employer of the Year– Effingham Dairy Queen.  As the employer for two individuals in the CSS Community Employment Program, the Effingham Dairy Queen also incorporates these individuals in the Dairy Queen family by inviting them to take part in social events for the company. Dairy Queen employees have also been known to attend Special Olympics events to encourage their friends/coworkers.
Educator of the Year– Ms. Kelsey Baker. Ms. Baker has a powerful impact on her students. She realizes that education is much more than academics and integrates her students in dances, clubs, and plays.
Lifetime Achievement Award– Jeanie Yagow. Yagow has spent 30 years with Community Support Systems. Although her roles may have changed through the years with the expansion of technology and shifts in service delivery, she has made families feel welcomed and coworkers aware of their value. Yagow will be missed in her retirement this year.
Team Player Award– Rachel Rickets. Rickets is known for her willingness to take on extra projects, even inventing her own. To help secure benched for the Harmony Playground, Rickets led an agency-wide plastic cap collection, also helping with the sorting and packaging.
Person of the Year– David Hites. As a Rest Area Maintenance worker, Hites is a dedicated worker. Hites assists CSS in meeting their contract with IDOT in the maintenance of the I-57 and I-70 Rest Areas.
Good Neighbor of the Year– Teutopolis Witches Walk. The Witches Walk was awarded the Good Neighbor of the Year award for their efforts in organizing a very well attended and supported event, resulting in a considerable donation to CSS.
Family of the Year– The Galen and Sharon Mendenhall Family. The Mendenhall family was awarded the Family of the Year award for their continued support and willingness to work with Community Support Systems to ensure the best experience for their daughter.
Employee of the Year– Julie Gebben. Gebben is known for her willingness to assist in all programs and her extraordinary ability in tracking payments from the State and in billing.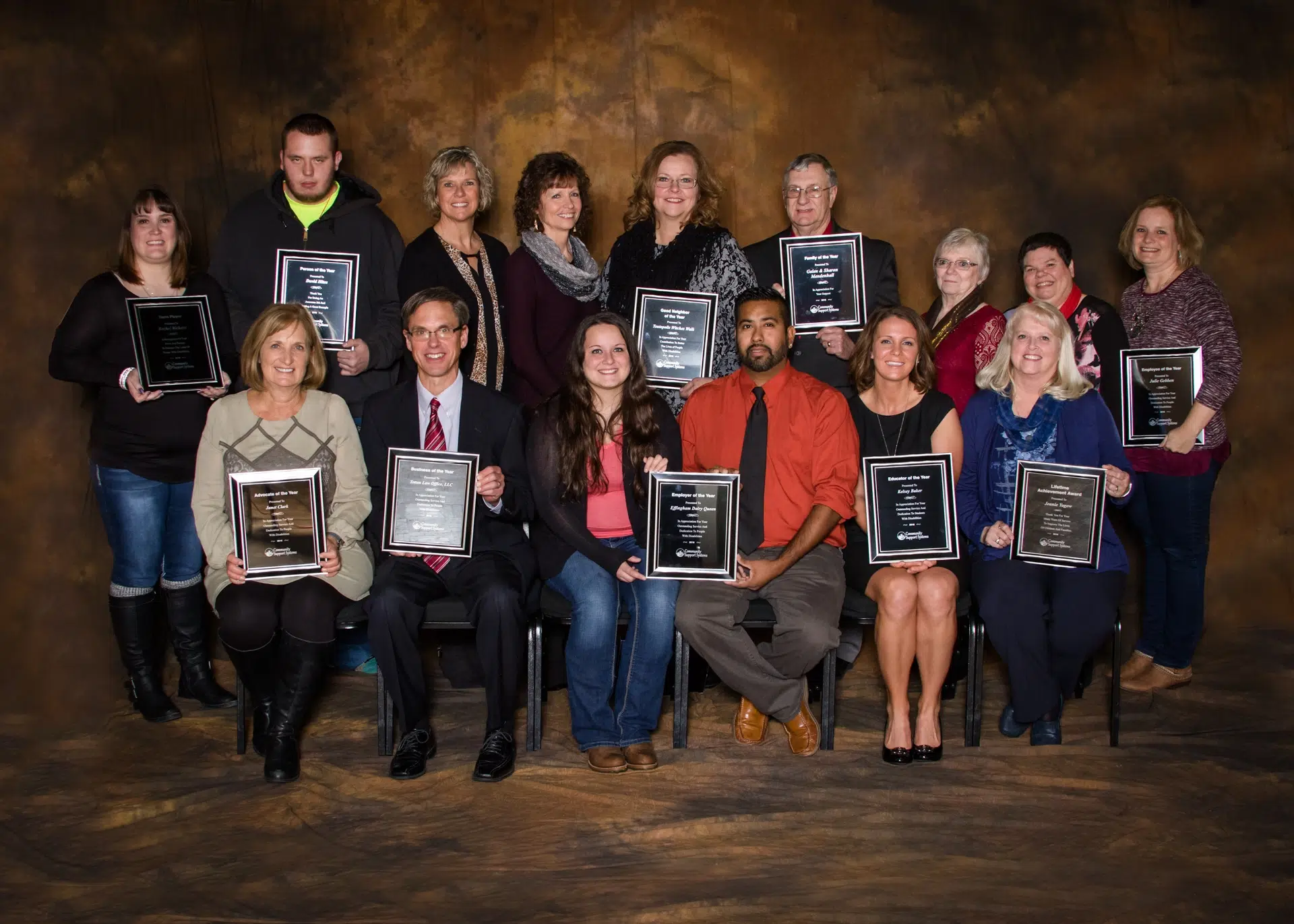 Pictured: Back Row left to right: Rachel Ricketts, David Hites, Diane Althoff, Ruth Dust, Jodie Pruemer, Galen Mendenhall, Sharon Mendenhall, Jaime Mendenhall, and Julie Gebben. Front Row left to right: Janet Clark, Bill Totten, Crystal Maxey, Eric Morales, Kelsey Baker, and Jeanie Yagow.