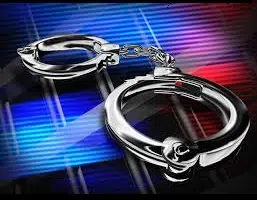 Three were arrested on Wednesday after trying to make off with $2000 in stolen goods from the Robinson Walmart. After Police were called to Walmart in regards to the large theft, Palestine Officer Brandon Carpenter stopped two suspects in a car in Palestine. Both 32-year-old Dirk Elkins, of Jacksonville, and 30-year-old Rusty McCoy, of Vincennes, Indiana, were arrested. $2000 worth of merchandise was recovered.
Shortly after, Robinson Office Sgt. Dave Marqua arrested 34-year-old Billy McCoy, of Vincennes, who had fled on foot in the area. He was located due to a diligent employee at a nearby business.
The Robinson Police Department was assisted by the Palestine Police Department and the Crawford County Sheriff's Office.
"This was a great example of teamwork between law enforcement agencies, the victim, and the public. Retail theft affects all of us. While you are out shopping this Christmas season, be diligent to what is going on around you. Protect yourself, your property, and report suspicious activities," The RPD said in a release from Thursday.